Welcome to one of Florida's most diverse and extraordinary botanical collections.
PIRATE AND FAIRY
CELEBRATION SATURDAYS!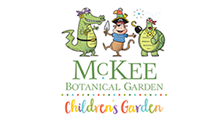 Children's Garden.
EXPLORE. DISCOVER.
JUST BE A KID.
GARDEN OF GLASS
NOW – APRIL
Where imagination lives, curiosity grows, and exploration leads.
CLASSES & PROGRAMS
McKee Botanical Garden offers a variety of fun and enriching classes for all ages designed to let your inspiration grow.